Product Description:
Chemical name:Citric Acid
Alias: Citric acid monohydrate/Citric acid anhydrous
Molecular weight:210.1388/192.12
CAS:5949-29-1/77-92-9
Chemical formula: C6H10O8/C6H8O7
Appearance:White crystalline power
Citric Acid is mainly used as flavoring agent, preservative and antistaling agent in food and beverage industry. Citric Acid also can be used as antioxidant, plasticizer, detergent in chemical, cosmetics and detergent industries. As a food additive, Citric Acid Anhydrous is an essential food ingredient in our food supply. As a leading food additives and food ingredients supplier in China, we can provide you with high quality Citric Acid Anhydrous.
Specification:
Product Usage:
Citric acid usage:
Mainly used in food, beverage, pharmaceutical industry as an acid, flavoring and preservatives, pharmaceutical accessories;
In the chemical industry, cosmetics industry and washing industry as antioxidants, plasticizers, detergents, etc.
Citric Acid Anhydrous Functions:
Food loosen agent, acidity modifier, or used in feedstuff, drug, medicine, film, tannage, fiber and rubber, or used as detergent
and fire fight.
Packing&Shipping:
25KG/BAG
25TONS/20 CONTAINER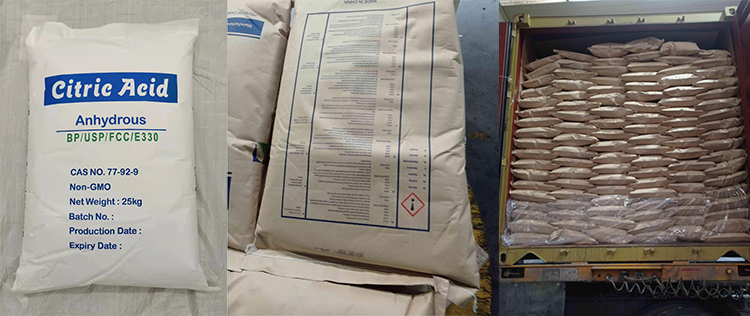 It can support multiple payment methods such as TT, LC, DP, OA, etc. If customers are not satisfied with the quality, they can return or replace