Product Description:
Potassium sorbate is the potassium salt of sorbic acid, white to light yellow scale crystals, crystal particles or crystal powder, odorless or slightly odorous.

Potassium sorbate is widely used in food and feed processing industries, as well as in cosmetics, cigarettes, resins, spices, rubber and other industries. However, it is most widely used in food preservation and feed.
Product Specification:
Product Usage:
Potassium sorbate, as the least toxic food preservative, is widely used in food and feed processing industries, as well as in cosmetics, cigarettes, resins, spices and rubber industries. However, it is most widely used in food preservation and feed.
Food preservatives

Potassium sorbate is widely used as a food preservative. my country approved its use in 1982 and issued a standard that stipulates that the allowable concentration of flour products, pickles, canned food, dried fruits, dairy products and condiments is 0.02% to 0.1%. Adding 1% potassium sorbate to meat products can significantly inhibit the production of Clostridium botulinum toxin. At the same time, sorbic acid is widely used in low-alcohol wines such as fruit wine, beer and wine, and has an ideal antiseptic effect. The Food and Agriculture Organization (FAO) has formulated a series of standards for food, which clearly stipulates that the maximum dosage of potassium sorbate is 0.28/kg. Each country refers to this standard and formulates strict usage standards according to their own conditions. Treating packaging materials with potassium sorbate can extend the shelf life of foods such as bread and dry foods. In view of the limitations of single food additives in application and physical properties, domestic and foreign countries are vigorously developing compound food additives, so as to exert synergistic effects to achieve the best results.
(1) Application in vegetables and fruits
If fresh vegetables and fruits are not treated in time, they will quickly lose their luster, moisture, dry and wrinkled surfaces, and are prone to mold and rot, resulting in unnecessary waste. If potassium sorbate preservative is used on the surface of vegetables and fruits, it can be stored for a month at a temperature as high as 30 °C, and the greenness of vegetables and fruits can be kept unchanged. For apples sprayed with potassium sorbate preservative liquid on the surface, only about 5% of the apples rot and deteriorated after being stored at room temperature for 4 months. Potassium sorbate can even prevent oxidation and rusting of tinplate on the outer packaging of canned vegetables.
2) Application in meat products
Preservative preservation is achieved by briefly soaking smoked ham, dried sausages, jerky and similar other dried meat products in a solution of potassium sorbate of appropriate concentration. Meat sausage products such as beef sausage, pork sausage, etc. can be directly added with an appropriate amount of potassium sorbate during the meat chopping process in the production process. After the finished product is made, a 5% potassium sorbate solution is sprayed on its surface to achieve antiseptic treatment. Fresh. It is also possible to directly add an appropriate amount of potassium sorbate to general meat materials and meat fillings for preservative preservation. Fresh chicken and cooked chicken can be soaked in potassium sorbate preservation solution of different formula and concentration to improve the preservation effect and prolong the shelf life. The fresh poultry meat sprayed with potassium sorbate fresh-keeping liquid on the surface obviously prolongs the spoilage time compared with the same food that has not been sprayed with fresh-keeping liquid, and the fresh-keeping time is twice as long as that of the control sample.
(3) Application in aquatic products
After adding 0.1%~0.2% mixed preservatives of sorbic acid and potassium sorbate to the fish sausage, the product will not spoil for two weeks at a temperature of up to 30 °C, while the control sample under the same environmental conditions is stored for one Corruption and spoilage in a few weeks. When the temperature is kept at 10~15℃ and the internal pH value of the fish sausage is controlled at less than 6, the sausage can be stored for seven weeks without spoilage. Under normal circumstances, the pH value of fish cake products is between 6.8 and 7.2. Potassium sorbate or its mixture with sorbic acid can be used for preservation and preservation. However, when using the mixture, be sure to control the ratio of sorbic acid, because sorbic acid is an acidic preservative, and the elasticity of kamaboko products will be affected at low pH. Therefore, in order to reasonably resolve this contradiction, the content of sorbic acid in the mixture must be reduced. Dried fish products are relatively dry. Generally, products with a moisture content of less than 30% will not cause bacterial spoilage, but are prone to mildew. If an appropriate amount of potassium sorbate is added to dried fish products, this mildew phenomenon can be effectively prevented. Smoked fish products can be sprayed with potassium sorbate solution with a concentration of 5% to 10% before, during or after the smoking process for preservation and preservation. After adding an appropriate amount of potassium sorbate, the fish and shrimp cooked in soy sauce can be stored for two months at a temperature of 10-15 °C without spoilage. Thoroughly cleaned fresh fish, shrimp or other fresh aquatic products should be immersed in an appropriate concentration of potassium sorbate preservation solution for 20 seconds and taken out.
(4) Application in soy sauce and pickled vegetables
Adding an appropriate amount of potassium sorbate to soy sauce can be stored at high temperature for 70 days without causing spoilage and mildew. When beetroot, pickled cucumbers, and other pickled vegetables are kept fresh with potassium sorbate, an appropriate amount of potassium sorbate can be added to vinegar containing table salt. Under normal circumstances, in order to avoid the turbidity of brine in pickled vegetables, you can first dissolve spices, salt and potassium sorbate in water and then add vinegar. Kimchi is preserved and preserved by directly adding a mixture of table salt and potassium sorbate.
(5) Application in pastry
When potassium sorbate is used as a preservative for pastries, potassium sorbate should first be dissolved in water or milk, and then the potassium sorbate solution should be added directly to the flour or dough. When using potassium sorbate to preserve starchy food, it is best to acidify the material with a small amount of vinegar first, because potassium sorbate has the best antibacterial and preservative effect when the pH value is lower than 5~6.
(6) Application in beverages
Potassium sorbate can be added to fruit and vegetable juice drinks, carbonated drinks, protein drinks and other beverages. The addition of potassium sorbate greatly extends the shelf life of the product.
(7) Application of potassium sorbate in candied fruit and candy products
Peanut candy, almond candy and general sandwich candy can be kept fresh by adding an appropriate amount of potassium sorbate directly. In order to ensure the anti-corrosion and fresh-keeping effect of some candy products with high sugar content, the addition amount of potassium sorbate should be appropriately increased.
Packing&Shipping:
Net weight:25kg/carton
Customized packaging according to customer needs.
Loading capacity:14tons/20'FCL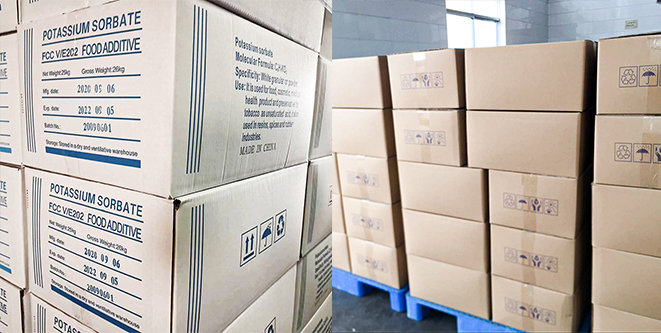 FAQ:
1,How to contact us ?
You can choose your interested products and send inquiry to us.You can also dial our telephone directly, you will get our reply.
2, How do you control the quality?
We control our qualiy by the factory testing department. We also can do BV, SGS or any other Third-party testing.
3,How long time you will make shipment?
We can make the shipping within 7 day after confirm the order.
4,What documents you provide?
Usually, we provide Commerical Invoice, Packing List, Bill of loading, COA , Health certificate and Origin certificate.
5,What are your payment terms ? Any third party payment ?
We usually accept T/T, Alibaba trade assurance, Western Union, L/C.
6,How Can I place an order ?
You could just send us inquiry to any of our sales representatives to get detailed order information, and we will explain the detail process.
If you have any questions and concerns, please contact me in time. Welcome to consult. We will be at your service at any time.