Product Description:
Sorbic acid is a good food preservative. As a recognized safe and efficient food additive, sorbic acid and potassium salt will be more and more widely used in the food industry in China. It is white or yellowish white crystalline powder; It smells very bad. This product is easily soluble in ethanol, soluble in ether, and very slightly soluble in water.
Sorbic acid is an efficient and safe preservative recommended by FAO and WHO. It is widely used in food, beverage, tobacco, pesticide, cosmetics and other industries. As an unsaturated acid, it can also be used in resin, spice and rubber industries.
Application:
Sorbic acid and potassium sorbate are the most widely used preservatives in the world. They have high antibacterial properties and inhibit the growth and reproduction of molds. Molds, yeasts, and many aerobic bacteria have inhibitory effects, but are almost ineffective against anaerobic spore-forming bacteria and Lactobacillus acidophilus. It is widely used in the preservation of various cheese products such as cheese and yogurt, bread and snack products, beverages, fruit juices, jams, pickles and fish products. The amount of concentrated fruit and vegetable juice in plastic barrels shall not exceed 2g/kg; the maximum amount used in soy sauce, vinegar, jams, hydrogenated vegetable oil, soft candy, dried fish products, instant bean products, pastry fillings, bread, cakes, and moon cakes is 1.0 g/kg; maximum usage in wine and fruit wine 0.8g/kg; maximum usage in collagen casings, low-salt pickles, sauces, preserves, juice (flavored) beverages and jelly; maximum usage in fruits and vegetables The maximum amount used in fresh-keeping and carbonated beverages is 0.2g/kg; in the food industry, it can be used in meat, fish, eggs and poultry products with a maximum amount of 0.075g/kg.
Packing & Delivery:
25kg/bag/carton/drum,14MT/20'FCL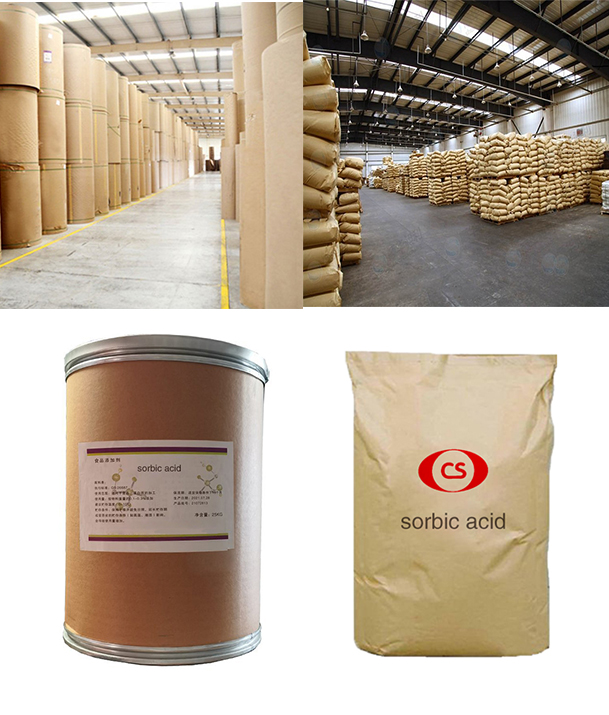 FAQ:
1,How to contact us ?
You can choose your interested products and send inquiry to us.You can also dial our telephone directly, you will get our reply.
2, How do you control the quality?
We control our qualiy by the factory testing department. We also can do BV, SGS or any other Third-party testing.
3,How long time you will make shipment?
We can make the shipping within 7 day after confirm the order.
4,What documents you provide?
Usually, we provide Commerical Invoice, Packing List, Bill of loading, COA , Health certificate and Origin certificate.
5,What are your payment terms ? Any third party payment ?
We usually accept T/T, Alibaba trade assurance, Western Union, L/C.
6,How Can I place an order ?
You could just send us inquiry to any of our sales representatives to get detailed order information, and we will explain the detail process.
If you have any questions and concerns, please contact me in time. Welcome to consult. We will be at your service at any time.